We, at Theming Ideas, regard the implementation and designing of the exhibition stalls along with its fabrication and placement as a brilliant way for various purposes such as marketing and participation. Our services in the exhibition stall management include the following:

Fabrication and designing of the exhibition stalls

Setting up the stall at locations for maximum outputs and audience

Advertising through stalls

Designing banners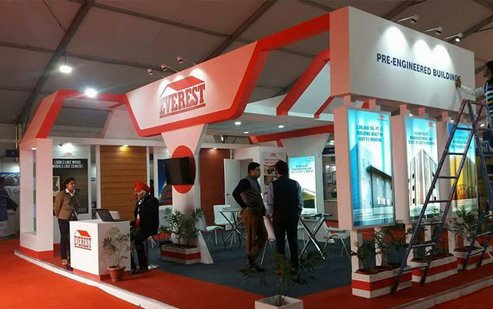 We have a dedicated team of professionals who have an expertise in the fabrication and designing of stalls for the purpose of exhibition at various places. We are equipped with the knowledge of providing you with some stunning designs and ideas that will help you, as a client and a marketing brand, in communicating your ideas to the audience and target viewers while your stall set up by us manages to act as a medium. We offer a collective solution for space designing along with its placement, implementation of the ideas, beginning from the layout planning. We are one of best exhibition stall managers in Delhi NCR.
We believe in assuring that the quality we deliver is optimum and the best we can provide when it comes to designing and installing. Our timeliness is remarkable and promising with no compromise with deadlines and the precision we assure. Our team works dedicatedly and strives towards making your stall one of the most well designed and installed. We have a reputation of being some of the most reliable exhibition stall managers in Delhi NCR because we understand that your stall is meant to represent and denote you as a person and your brand as a whole. We're a Delhi based event management company who are looking to serve clients pan India.

We can provide our clients with a variety of exhibition stall services since our team is an experienced and professional one who has an insight of working with various clients and industries as a part of our making. We give our sole and dedicated attention towards providing ultimate solutions to our clients and ensure smooth execution of our design and your stall till the last nail.


The team of Theming Ideas is equipped with providing creative and unique solutions for turning your desired stall ideas into a reality that your audience won't stop talking about. They are highly impressionable and practical along with being versatile, effective and attractive at the same time. Our solutions are devised and customized according to the specific need of the client, brand or the location for maximum output. Rest assured, your stall under our supervision will outperform the others.